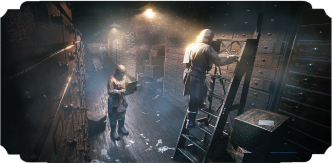 The Archives is one of the Buildings in Frostpunk. It is only available in Endless mode.
Acquisition
[
]
The Archives is available once you return a relic to your city during Pieces of the Past (Arc). It is available in the Public tab.
Description
[
]
The Archives is a special building specifically notable in Endless mode of Frostpunk and houses relics that are scoured from Dreadnoughts across the randomly generated landscape. Each relic contains an anecdotal story of varying lengths, and players are tasked with finding a good number of relics, with increasingly more challenging tasks for retrieval, including using steam cores to pry open the Dreadnought's contents, which can be quite challenging given the random nature of the map against an individual's drive to complete all the retrievals, forcing the player to make hard choices between going the safe route or risk a "risky retrieval" method and potentially lose your scout team. The building requires no active heating and does not operate in any noticeable way or influence any specific game mechanics before all the relics are collected, but each item is immediately viewable after your scouts return and thus place it in the archives.