Shrine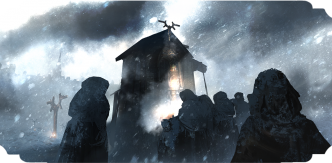 Shrines are a type of Building in Frostpunk.
Sign the Shrine law from the Faith section of the Purpose Book of Laws
A Shrine is a small religious structure that can be built on the streets, the Shrine is unlocked by the Shrines (Law), of the Faith tree.
Shrines contribute in two ways:
They add a +20% Base Efficiency bonus to all fully staffed workplaces within their aura. A fully staffed Workshop, for instance, would operate at 100% + (5 workers x 4%) = 120% effectiveness.
They provide a permanent positive bonus to hope based on the number of people who are working near a shrine. The player can check this number by hovering the mouse over the Hope bar, but the exact bonus is not stated.
Shrines are built on streets, much like Steam Hubs and Agitators. This means that you can fit them in between closely-packed buildings.
It is beneficial to build shrines so that their aura contains multiple workplaces. Putting a shrine so that it overlaps two Coal Mines, for instance, can hugely increase your coal influx (raising the base efficiency of both structures to 120% for minimal cost).
Shrines only affect human-crewed workstations. They do not affect the efficiency of Automatons.